Tucson and Phoenix, Arizona
(02/05/20 – 02/16/20)
I am long overdue for a blog post, so I thought it was about time I give you all an update on what the season this year has been like so far! 2020 has been off to a great start and I am more than happy to be racing again with Team TWENTY20.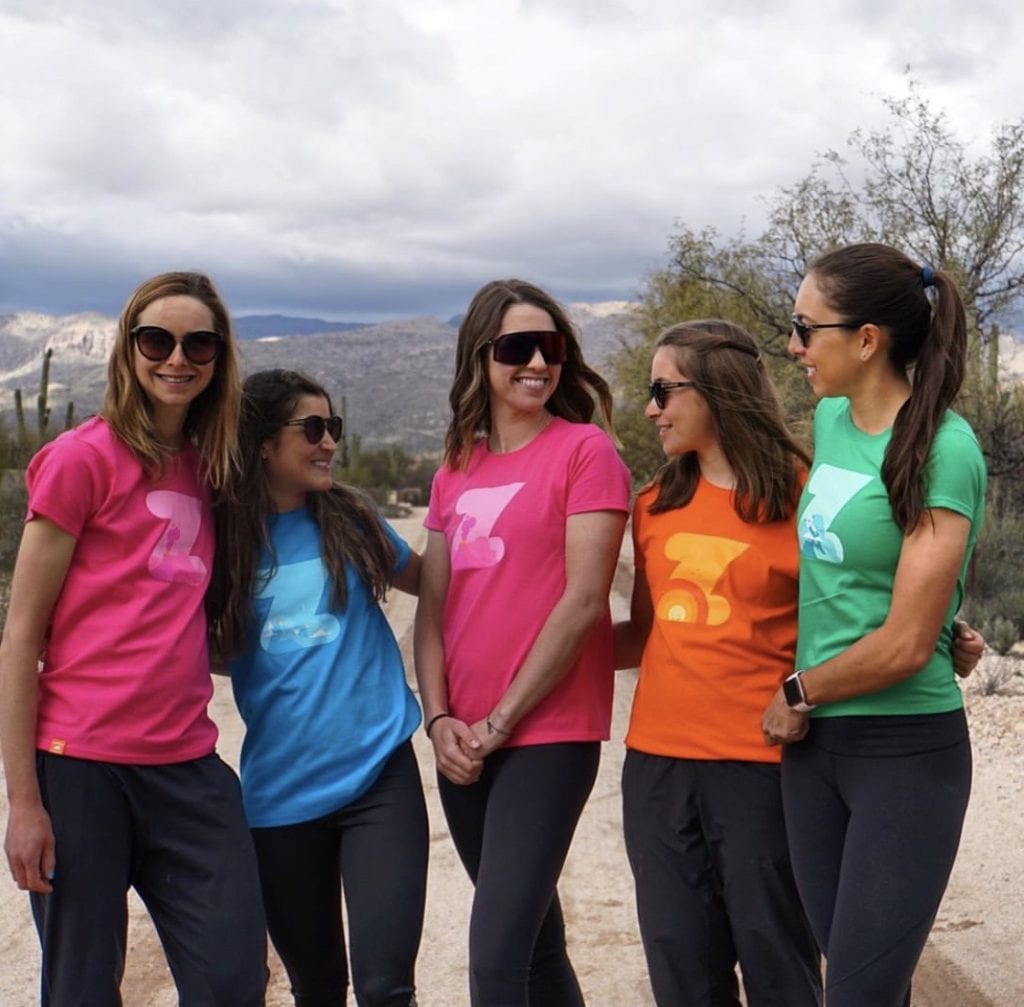 The season officially kicked off with the Valley of the Sun Stage Race, but before toeing the line, we had our annual team training camp at the lovely Pace Ranch in Tucson, Arizona (thank you Pam Alexander and Nicola for getting this wonderful facility up and running!). In total, we spent about a week in Tucson leading up to VOS and it was filled with plenty of team bonding, hard training days, and good times. The first day of camp was a longer endurance day with some pace-line practice as a team which we decided to do at a faster pace in order to make it more "race-like." We also practiced on a rough road with plenty of rocks, gravel, and potholes for extra practice with maneuvering – so much fun!
The next day was an extra special day of suffering. Similar to last year's camp, we raced up Mt. Lemmon to Windy Point as fast as we could. Except, instead of re-grouping at Windy Point and continuing to race to the top, this year we finished at mile 14 at Windy Point. Overall I felt okay on the climb. Not spectacular, but also not terrible. The incredibly beautiful views the whole way up definitely helped with the suffering a little bit! Mt. Lemmon will forever be one of my favorite climbs I've ever done.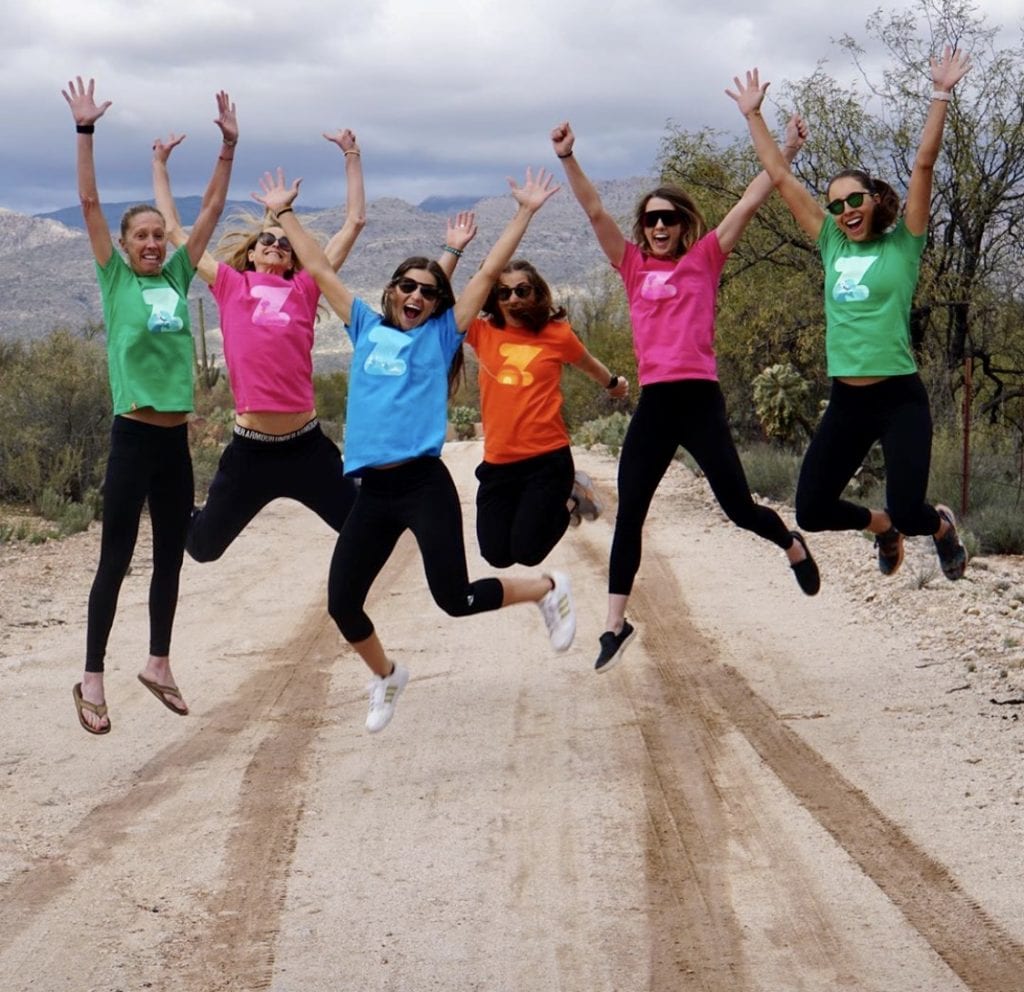 The following day was another special day of suffering with the Shootout group ride, a favorite for so many pros who make Tucson their home during the winter training months. I am not lying when I say it's the fastest and hardest group ride I've ever done. With an intense pace from the start, it was all I could do to tuck in and try to hold on for as long as possible. After getting dropped from the front, I worked together with my teammates Simone and Lea to try and minimize the gap, but we never saw the front group again. A little while later our team re-grouped and rode together the rest of the way at a steady pace until we decided to race each other up Madera Canyon, the longest climb on the route. Afterwards, we cruised back to town and capped off the 100+ mile ride with a stop at Le Buzz Cafe – a local favorite! The next few days were relatively uneventful with another long 100+ mile endurance day, a rest day, and a lead-out practice day where we simulated sprint finishes. All in all, it was a super solid week of fun training, skills practice, and fitness building!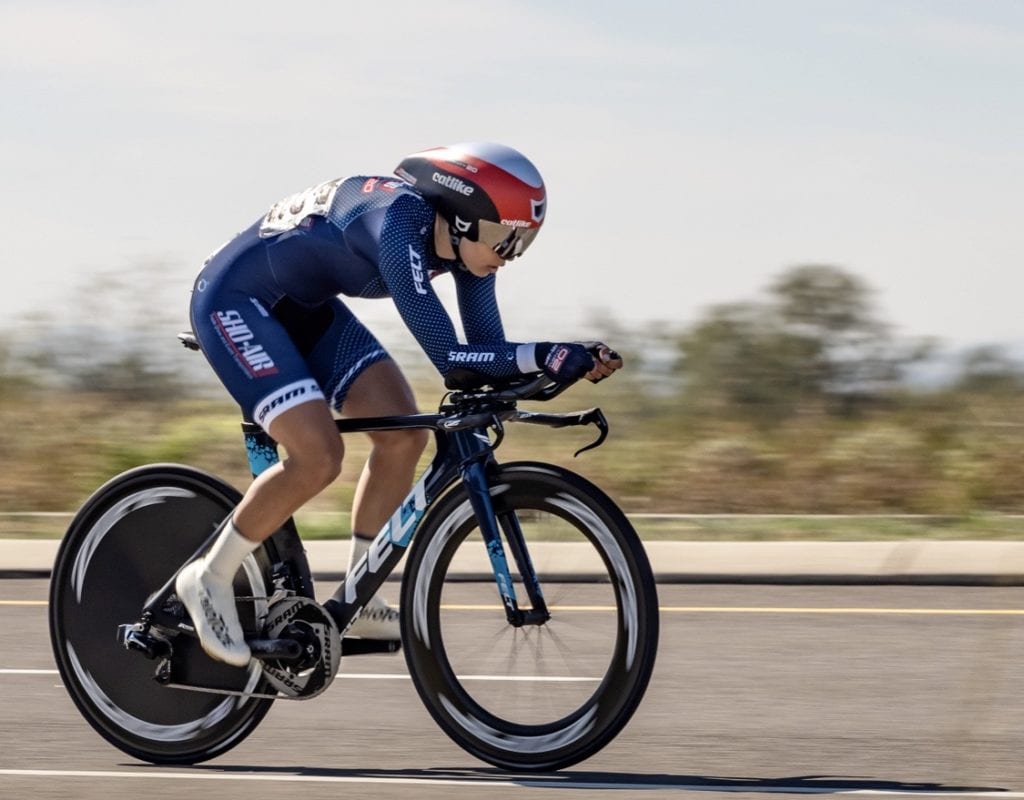 The following couple days leading in to VOS were super easy and included a drive up to Phoenix from Tucson, and some recon of the time trial course. Before I knew it, it was race day. The weekend kicked off with a 14 mile time trial which consisted of a simple out and back course with a false flat on the way out and subtle negative grade on the way back. I felt great for the first part of the race, but soon realized I couldn't sustain the power I started out with. From then on out I just focused on riding as smoothly as possible without losing too much time and power. In the end, I finished 8th, not what I was shooting for, but not terrible either.
The next day I woke up with a bit of a sore throat and instantly suspected I had come down with something. Despite this, I decided to push that thought to the back of my mind and instead focus solely on executing our team plan for the day: race as aggressively as possible in hopes of getting our teammate Jen up from 2nd in general classification to 1st, and hopefully to get either her or Simone (or both) in a break so that they could both move up in GC. The day's race consisted of a 63 mile road race that had us do four circuit loops with a bit of descending in the first half, a long flat section mid-way through, and a climb up to the finish. We went in with the team plan of being very aggressive and we attacked plenty of times throughout the race. I myself made lots of attacks and even managed to get a good gap on the field for half of them, but was ultimately brought back because I was either by myself or with a Lux rider who was high up in the GC. In the end, we couldn't get Jen or Simone in a break up the road, and it came down to a field sprint at the finish with Summer (the GC leader) taking the win. Though we didn't accomplish our goal, at least both Jen and Simone were able to hold their places in GC!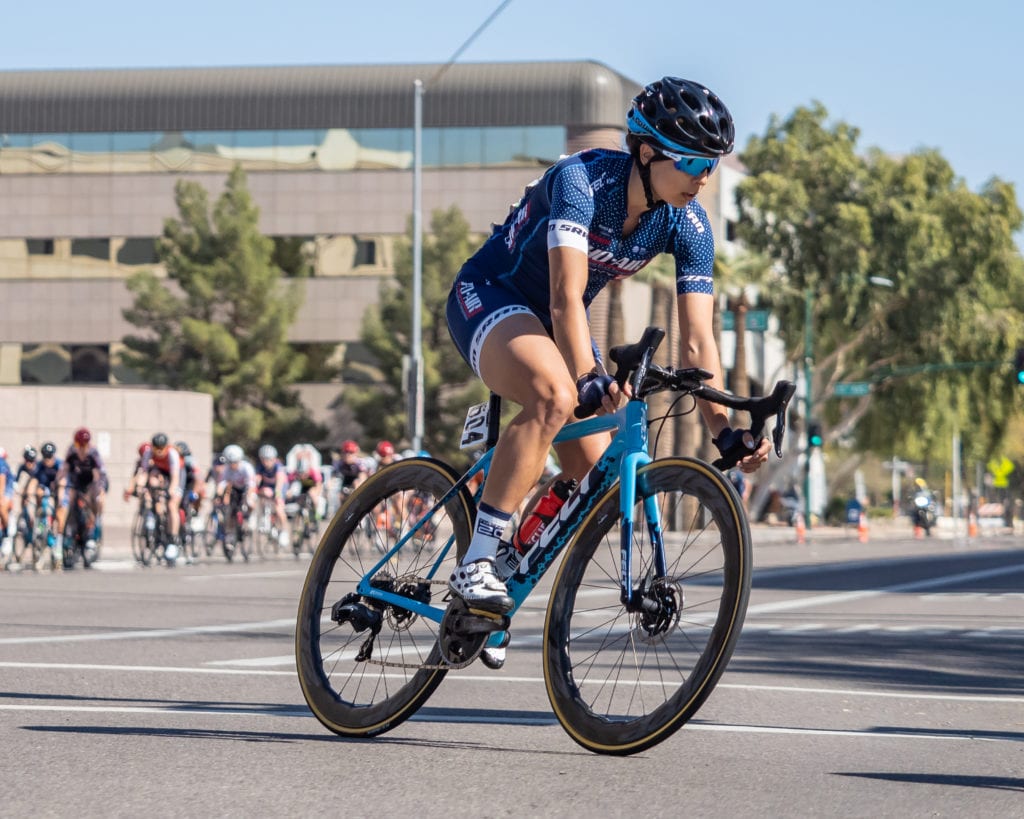 The following day was the criterium which consisted of a flat and twisty course which made for a lot of fun! Unfortunately, after the road race the previous day, my sore throat developed into a full-on cold so I was definitely feeling "off" that morning. However, like yesterday, I went in to the race with an aggressive mentality and thought of nothing but executing our team plan for the day. Overall I was pretty impressed with how aggressive we all rode as a team during the race and was pleased by how much more consistent attacking we did compared to the day before. Plan A was to have Jen or Simone get in a break to try and move up in GC, which we knew was going to be tough to do during a fast 40 minute crit race, but also not impossible. When we realized half way through the race that wasn't going to happen, we decided to go with Plan B, which was to keep the race fast and aggressive in order to set our teammate Sophia up for the sprint at the end. With 3 laps to go, myself and some other teammates went to the front in order to keep the pace quick and help set up the lead-out for Sophia. I peeled off the front with about 1.5 laps to go, and a couple other teammates took over from there. In the end, Sofia was 3rd and our junior teammate Makayla was 2nd. Not a win, but not a bad day either! Jen and Simone also secured 2nd and 5th place in GC respectively.
Though I didn't perform as well as I would have liked, I'm still proud of how myself and all my teammates rode together and worked as a team throughout the weekend. We really gave it everything we had. In the end, there really isn't much to complain about with 8th place for me and 2 other teammates in the top 10! I already can't wait to see how we do the rest of the season. Also, huge thank you to our support behind the scenes: Nicola Cranmer, Pam Alexander, Gord Fraser for directing us, Doug for keeping our gear running smoothly, and of course our many team sponsors of which there are too many to list here. We couldn't do what we do without their support.
Thanks for reading! – Shayna