Boise, Idaho (7/10/22)
Yet again, I'm a bit overdue for an update. Life has been a little hectic lately with travel and racing so I'm just now finding the time and motivation to do a recap on the last couple crit races I did back in July.
Boise is always a fun place to visit. I've done the Boise Twilight crit four times, and I always look forward to racing it every July. A couple days before the race, our team went out and did some crit racing practice with the Byrds Cycling team, a local young rider development squad. We rode with them from their headquarters over to the local fairgrounds and did laps around the parking lot while practicing riding in a group, cornering, moving around and setting up for a sprint finish. Seeing so many kids on bikes and eager to learn was a very special thing and the highlight of the day was getting to play foot-down with them where we all rode in a small circle of grass and tried to tip each other over (last one still on their bike was the winner). I'm proud to say that I won the first round of the few that we played and it was a great opportunity to practice track standing and bike handling skills. It's a game I could play all day!
A couple days later was race day. As it always is every year, it was blazing hot out and ice socks were very necessary. The course was in the same place as usual in front of the beautiful capitol building, and was flat, fast and only four corners. My job was to cover moves and be a part of the lead out for our sprinters (Skylar and Kendall) at the end of the race. The race started out pretty quick and I made sure to cover attacks whenever it made sense. I felt pretty strong despite the heat and had enough kick at the end to get to the front, sit there for a couple laps in our Legion train, and do a lead out for just over one lap. After that, I left it to my teammates to take over for the last half lap of the race. In the end, it all worked out and Skylar got the win! Even better was seeing my teammate Ty get the win in a tight battle at the end of the men's race.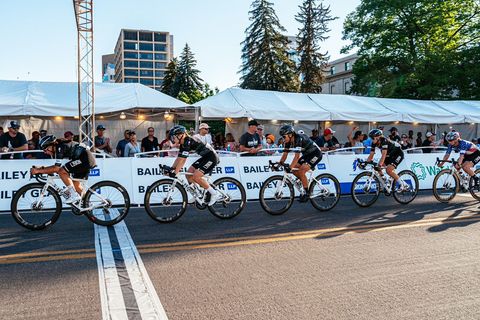 Salt Lake City, Utah (7/16/22)
The following morning, we did a group ride we co-hosted with Competitive Cyclist from a local bike shop which had a huge turnout. It was so much fun riding with tons of people from the local community and it was great getting to spin out the legs after a late crit. The next few days were some of the most fun training days I've ever had on the bike. Some of our team stayed in a giant house just outside of Boise where we put in some solid training days that included riding up Bogus Basin a couple of times and drafting behind Sam Boardman on a couple 3-4 hour rides (thanks Sam!). There was one day where we went floating down the Boise River and later in the day saw the Lumineers perform live, so all in all it was an incredibly fun week in Boise!
After a over a week in Boise, we then drove to Salt Lake City, Utah for the Salt Lake Criterium weekend. A couple days before the race we did a fun community ride hosted by the team and Competitive Cyclist at a local bike shop in Park City. Just like the group ride in Boise, it was a successful turnout and I had a blast meeting people from the local cycling community. I'd be lying if I said I didn't feel the altitude though!
I had done this same race weekend last year but the courses were completely different this time around. Saturday featured a very flat four-corner course, similar to the Boise Twilight Crit but in the opposite (counter-clockwise) direction. There were many attacks throughout the race and I covered a few. At one point, my teammate Sam got into a break with a couple other riders which lasted until a couple laps to go. Right as we caught them, there was a bit of a jumble in the group where I lost my momentum and positioning near the front. My teammates behind me went around and unfortunately it was just too chaotic for me to successfully jump on their wheel. At that point we were going in to the final lap and there was no way I was going to get to the front from that far back to help with the lead out. Thankfully Sam was still able to take over my role in the lead out even after riding in the break for a while (so badass!), and the team was able to successfully help set up Kendall for the win and Skylar for third! Later on the Legion men took 1st through 5th so it was a strong performance by the team all around. Unfortunately, we didn't end up racing the next day due to an altercation that took place after the men's race and the resulting concerns for rider safety.
Stay tuned for my next update coming soon where I'll be talking all about my European racing block!