Anadia, Portugal
Saint-Quentin-en-Yvelines, France
9/27/22-10/16/22
This was my seventh time being selected for a World Championships, but my first time being named to the track Worlds team. I've represented the USA at Worlds in mountain biking and Esports in the past and every time has been a huge honor and an incredible experience. However, being selected for track Worlds was extra special since this was my first year racing on the track, and making the Worlds team was one of my big goals for the year.
If you had told me a year ago that I'd be competing in my first Elite Track World Champs this year, I probably wouldn't have believed you. I went from racing primarily gravel and Zwift last year to representing the USA and competing with the World's best on the velodrome this season—all of this while balancing road racing, coaching and Dream Catcher Foundation work, which wasn't easy, but I wouldn't have had it any other way. It's been fun to see the progress since my first track race in Glasgow this past April and I can't wait to continue seeing the improvements over time. 
I'll admit, I was a bit rusty early on at our pre-Worlds training camp in Portugal due to the fact that I hadn't been on the track since the Milton Nations Cup in May. My teammate Megan was in the same boat, but thankfully we were able to carry over quite a bit of road fitness and the track legs finally started coming around after a few days. I will say, track fitness is definitely different from road fitness–don't let anyone tell you otherwise! The training camp was hands down the hardest track camp I'd ever done with double days for 7 out of the ten days. However, the amazing food, weather, road routes and velodrome facility definitely made it the most enjoyable. Also, getting professionally fit on brand new Canyon bikes and getting aero testing done for the first time was a real treat. Additionally, I have to rave about our hotel staff who were incredibly personable and accommodating during our stay in Anadia. They were the most enthusiastic hotel staff I've ever met and even gave each USAC rider and staff member a custom shirt and bottle of wine as a goodbye gift. On our final day in Portugal before heading to Paris for Worlds, we got to go to the nearby city of Aveiro, also known as the Venice of Portugal. Touring the beautiful city by foot and taking a boat tour while learning about the city's history was the perfect way to cap off our time in Portugal.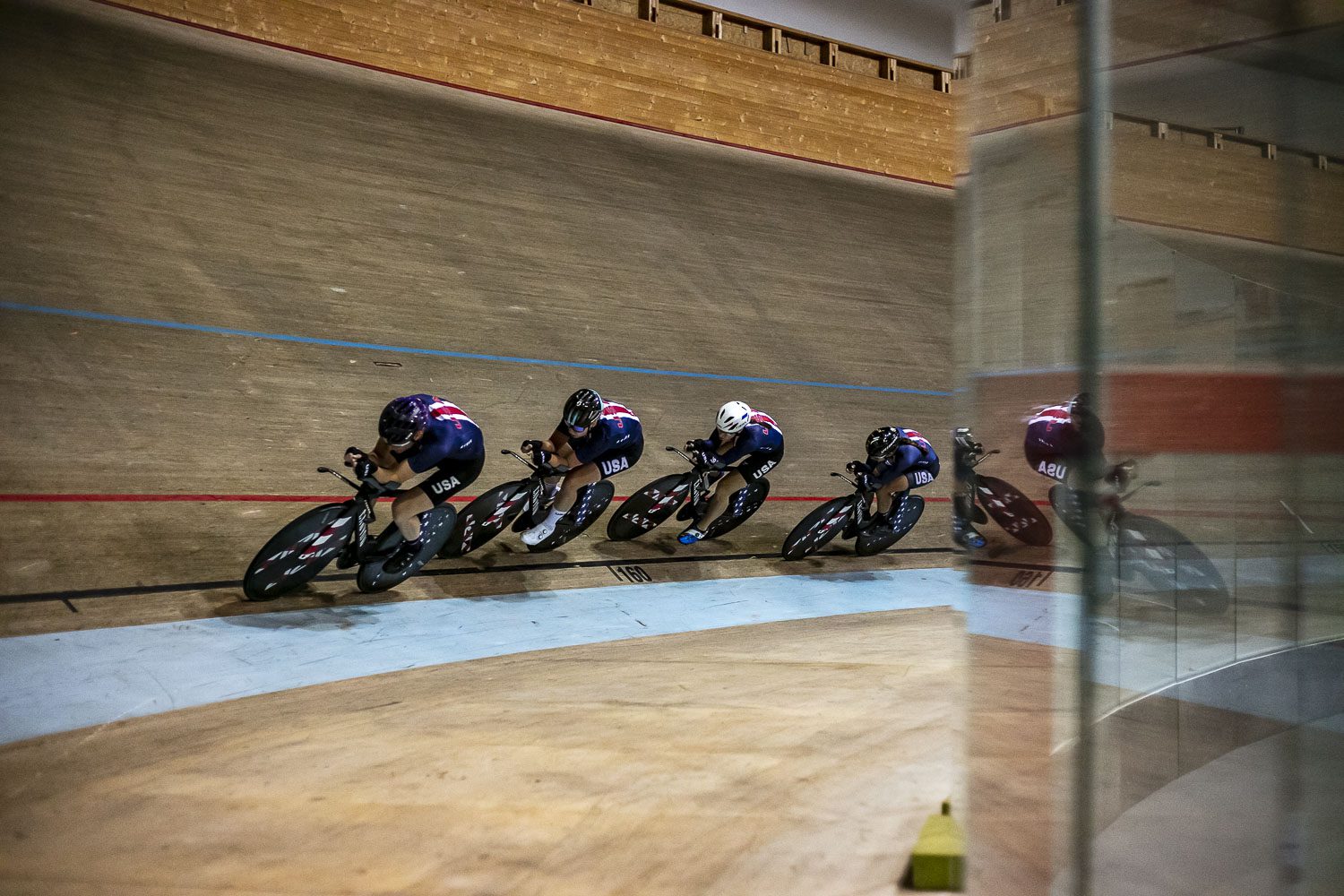 We ended up finishing 8th out of 16 teams in the team pursuit at Worlds, meeting our goal of making it through qualifiers and riding in the first round while also meeting our goal time. Personally, I think we rode quite well considering Megan and I's minimal track preparation and the fact that we didn't have Jennifer with us in the first round. However, I know our team is capable of so much more–so we will continue putting in the work to reach our full potential. I also competed in the individual pursuit and was a bit disappointed with the result which was a couple seconds off my goal time (mostly due to the fact that I went out too quick early on). However I have no doubt that I'll continue improving over time with more experience.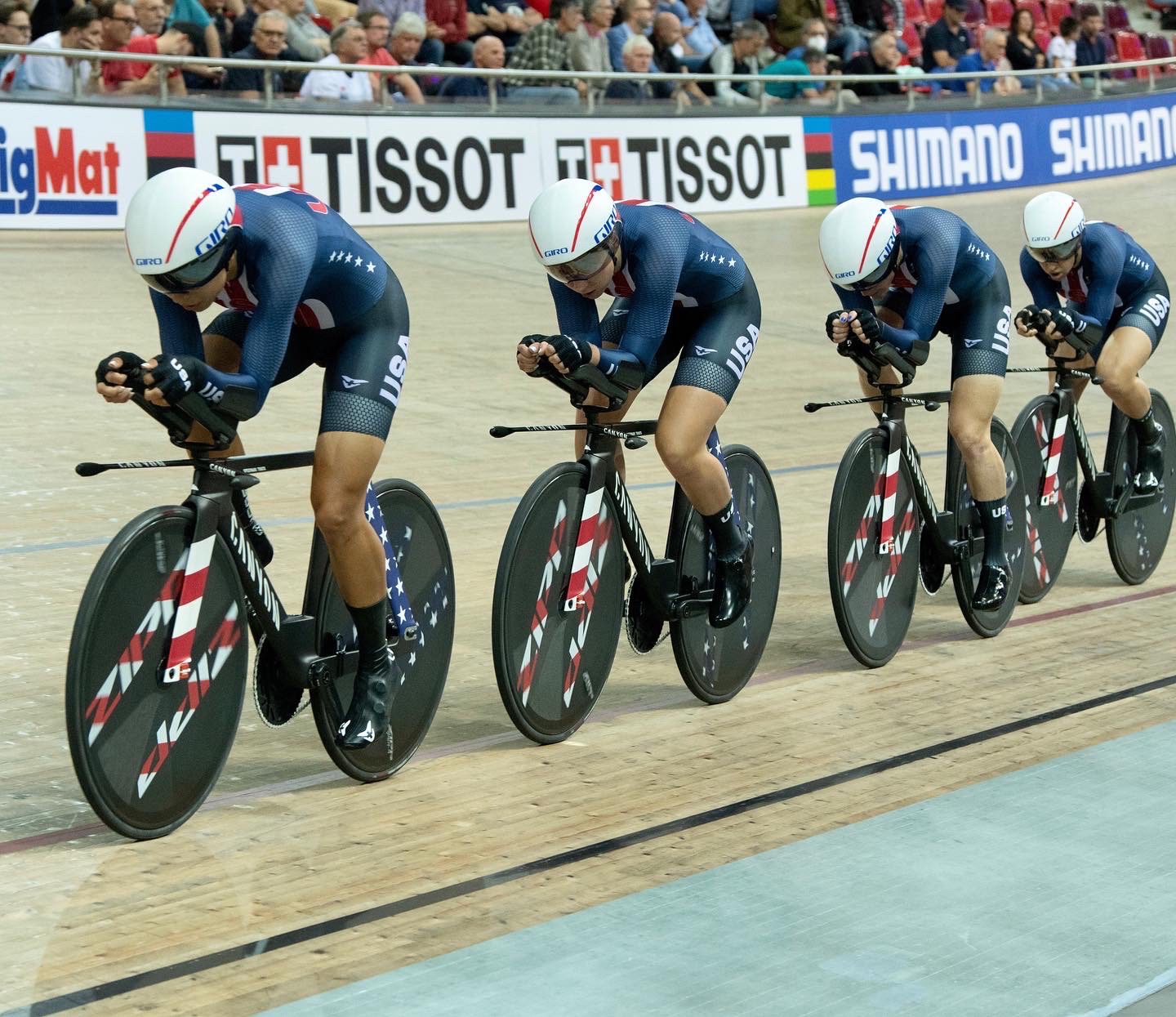 To be honest the highlight of the week was seeing my track teammate, Jennifer Valente (former Team TWENTY24 teammate), become the Omnium World Champion—truly an incredible feat that was so special to witness. Another highlight was getting to experience the insane crowds and atmosphere at the velodrome. They were the loudest and craziest fans I'd ever seen at a track race. Yet another highlight was getting to be a tourist for a day and tour the beautiful Versailles Palace and gardens which was only 10 minutes away from the velodrome. I've never seen more ornate and luxurious architecture in my life!
This has been the most challenging and successful year for me yet. With that said, I have to give a massive thank you to USA Cycling and my coaches Gary Sutton, Kristin Armstrong and Cass Barrett for all the support and guidance this year. I also have to thank my friends and family, including my fiancé Eli, who have shown me unconditional support from the beginning ♥️ What I do wouldn't be possible without them as it truly takes a village to be successful in this sport.