It's been a couple months since my last blog post so I thought it was time to finally sit down and post another update. This past spring was the biggest racing block I've ever had, but man was it a blast.
Redlands Classic
Redlands, California
(4/12/23-4/16/23)
I had done the Redlands Classic stage race a couple times before, but this year was my first time going in as my team's GC leader. It was a huge honor to be selected as the supported rider at such a big race and to be honest, quite a bit of pressure as well. I knew I was fit going into it fit, especially after coming off of a track camp in Colorado Springs the week before. However, the nerves were still pretty high, especially knowing the field was at an all time high of 120+ riders and quite stacked. I also knew that I was track fit, but the road fitness was still a big question mark since I hadn't done a road race since September 2022 during my Europe racing block.
The first day was the Highlands Circuit race which featured 40 miles of racing and a short, draggy, steep climb to the finish. I didn't feel all that great, especially after getting caught up in a crash a few laps into the race. The race was fast from start to finish and I felt like I just couldn't get my legs back under me after crashing. Thankfully my teammate Kaitlyn helped me get back to the group which took a bit of time and was definitely challenging due to the speed, but fortunately we made it back pretty smoothly. On the final lap, I made it to the base of the last climb with a couple teammates in tow, but as soon as we started going up, I felt myself going backwards and swung off so my teammates behind could go around. It was all I could do to keep pedaling and just make it to the finish.
Thankfully in the Oak Glen road race the next day, my legs came around. My teammate Holly also had a great race and went for a solo break mid-way through and managed to stay ahead for a while, sweeping up a bunch of sprint points and taking the sprinters jersey. Sadly I had gotten caught up in another unavoidable crash in the first lap of the race and had to chase back on for a bit with slightly crooked handlebars. Thankfully I eventually made it back and was able to conserve energy for the final climb up Oak Glen. Going into it, I made sure that Anet (our climber) was on my wheel and in good position. I then set a solid tempo/threshold pace for the first part of the climb which shed quite a few riders off the back, including some riders that we had caught from a break. Anet made a strong attack and got away from our group, taking another rider with her who had quickly responded. I kept my pace and soon after it was just me and a few other riders. By this point, the mist was so thick that you couldn't see more than several feet up the road, so there was no way to tell how far up the other riders were. Eventually my small group caught and passed Anet, and then just before the finish it was me and a Colombian Pato Bike rider together. Sadly she had a bit more pop than me just before the finish and got the final podium spot. Despite not getting on the podium, I'm super proud of my 4th place and how well I climbed. It was also quite reminiscent of my 4th place finish on this same stage in 2018. To be honest, my performance that day was a huge confident booster, especially after having a terrible day the day before, and set me up well going into the final few days of racing.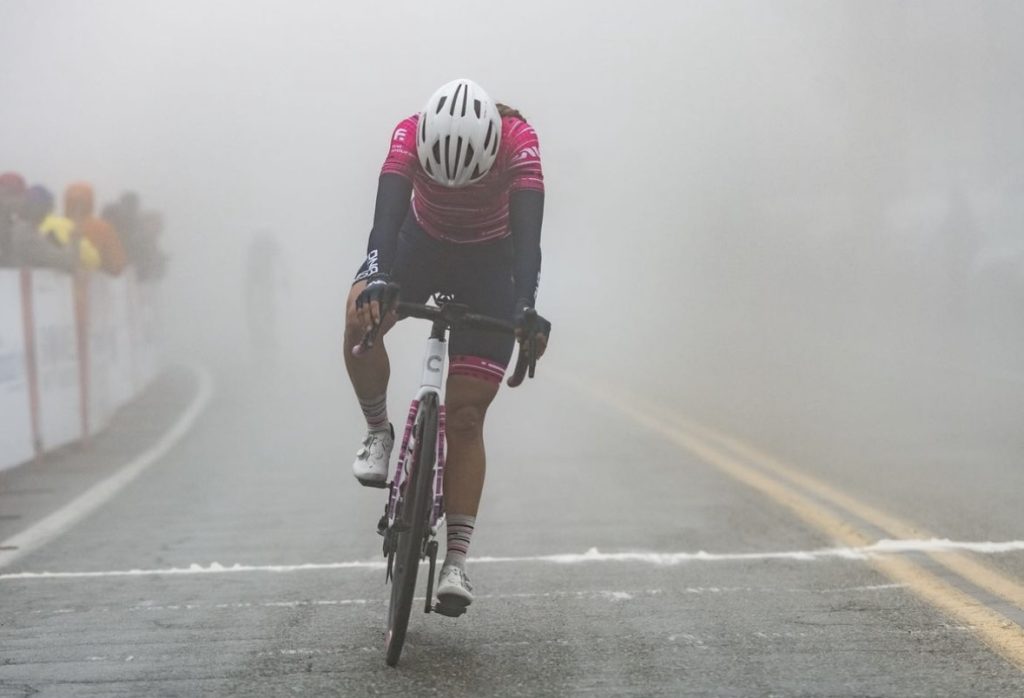 Stage 3 was time trial day–the race of truth! Time trialing has never been my strength and something I have never really targeted or focused on, but I still enjoy it in a twisted sort of way mainly due to the challenge it presents of racing with just yourself and the clock. It's also a great way to see how hard you can push. Mentally it's always been more of a challenge for me than physically. The race was a very straight forward out and back 9 mile course, with the way back being a gradual uphill. Overall I didn't feel too great, and although my power was good, I had trouble keeping aero on the bike–something I knew I had to work on.
The next day was stage 4–crit day! The race featured a technical course (same as usual) with 9 corners including a couple very sharp turns. The race was quick from the gun and there were some strong attacks from the group, some of which I made sure to cover. Sadly, I was in the wrong place at the wrong time and I missed a couple crucial moves mid-way through which was the break that ended up staying away. 30ish miles and many laps later, I just didn't have the legs to be in front of our sprinter Holly on the last couple laps, so it was all I could do to work my way up to her as much as possible on the last lap to help sweep in the last couple turns. At the end of the day, we were able to keep the green jersey secured, so it was still a good day.
Stage 5 (the final day of racing), was the iconic Sunset circuit loop: 66 miles with a few minutes of punchy climbing mid-way through each lap. I made sure to stay at or near the front each time going into the climb, and thankfully had good legs to to stay up there for the duration of it. There were a few attempts at a breakaway on the climb but due to the horsepower in the group, everything was brought back. Our group whittled down each time going up the climb, so by the end of the race, there were maybe only 15 of us left. The final circuit was a few laps of the crit course which made for a super fast finish. My teammate Anet attacked off of our group to get others to chase but she was quickly caught by other riders. When the final lap came, it was all I could do to hop on Marlies from Twenty24 who was on the Legion train and hold on for the finish. I ended up 4th, just narrowly missing out on the podium again.
Overall I was stoked to move up to 5th in GC and to finally get back to road racing after 7 months away. I'm also incredibly proud of our entire team's hard work all week, including Holly who managed to secure the green jersey! Huge thanks to Redlands Classic and the San Manuel Band of Mission Indians for putting on such a wonderful event. Also, I was so grateful for my dad who came all the way from Sacramento to watch me race. He really is the best!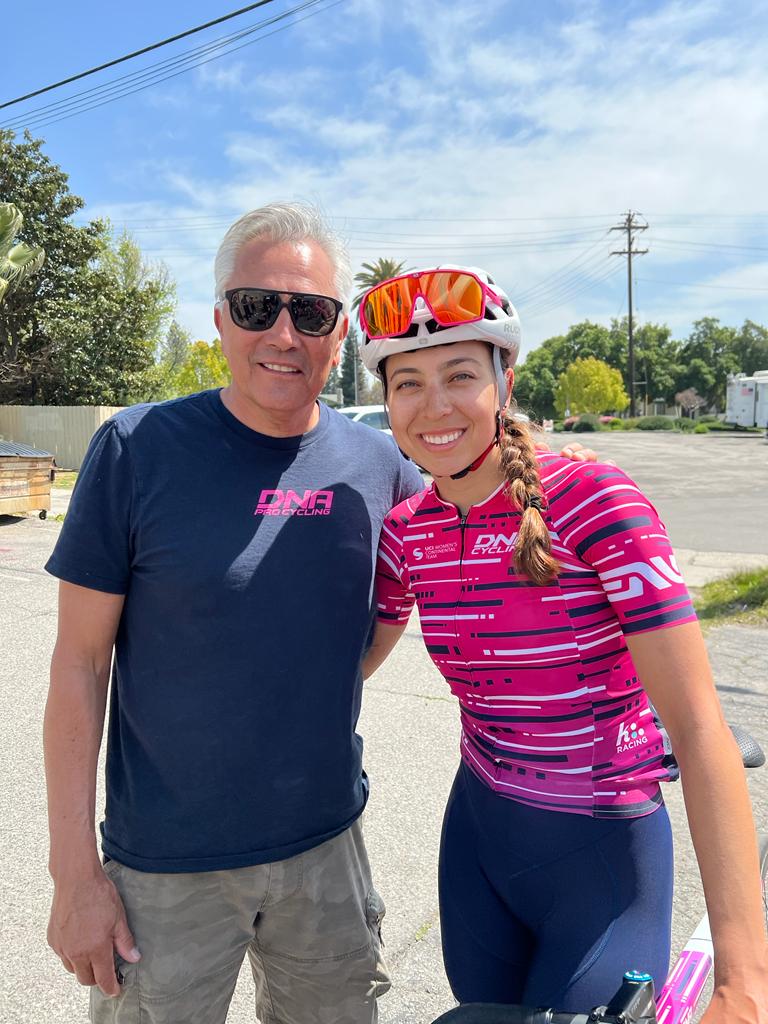 Milton Nations Cup
Milton, Ontario, Canada
(4/20/23)
This was my second time racing a Nations Cup in Milton with the National Team. Last year we managed to get 3rd in the team pursuit in a super tight battle with Canada–it was a day I will never forget! This year, however the circumstances were quite different. I had just come off of racing five days at Redlands (a few days before racing the TP) and was feeling a bit fatigued, so the coaches thought that it was best I race with the B team in order to minimize risk in racing with the A team. I was bummed to say the least, but understood at the same time. I will admit that I surprised myself with how I felt in the couple days of training leading up to the race. The legs didn't feel quite as fatigued as I expected them to, though they also didn't feel quite as snappy as they normally would going into a track race. Overall, I'm proud of how our team rode in the qualifying round. We had a pretty smooth ride and all four of us finished together without any gaps, clocking in at a time of 4:30–five seconds faster than our coach expected us to finish at. I also really enjoyed being a starter for the first time and managed to pull 6 laps–the most amount I've ever done before in a race! Sadly, we ended up in 12th place and didn't move on to the first round, however that makes me no less proud of our performance. Our team still has plenty of room to improve upon with that being our first time racing together and first Nations Cup for a couple of the girls, and I have no doubt we will be better if we get the chance to race together again.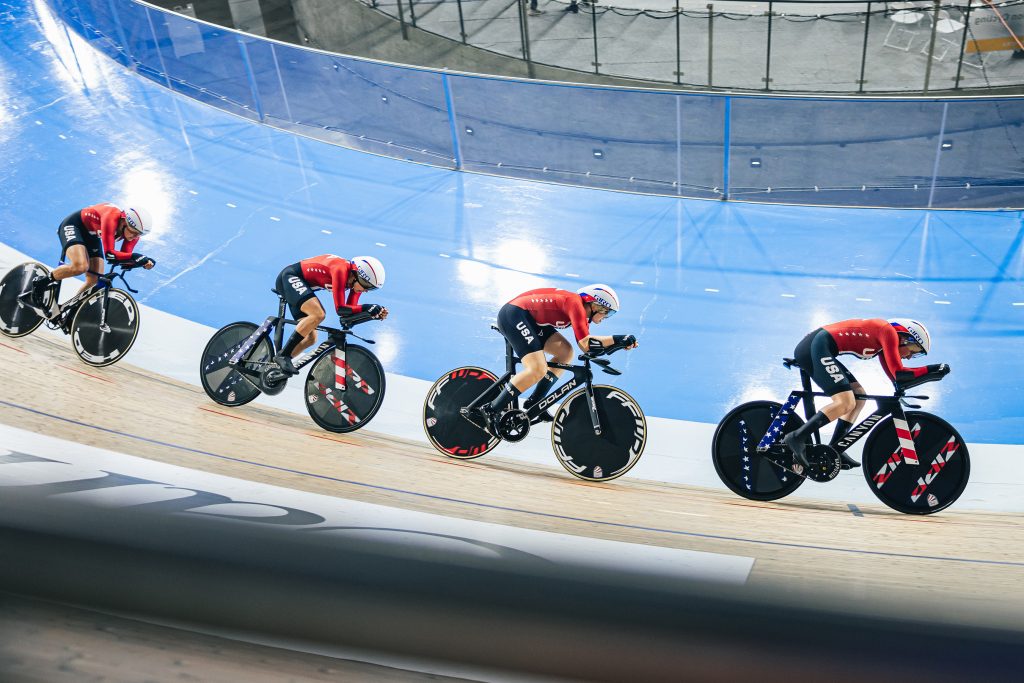 Tour of the Gila
Silver City, New Mexico
(4/26/23-4/30/23)
The big Milton sandwich block came to an end with the Tour of the Gila, a five day stage race in the Silver City, New Mexico area. Similar to Redlands, I had done this race a couple times before, so I was no stranger to knowing how challenging it was going to be. The altitude alone was a challenge with the races taking place at 6,000+ feet.
Stage one started out with a long 73 miles through flat to rolling, open high desert terrain. Some people tried to attack, but the terrain made it especially hard for anyone to get away. People also went for the sprint points including my teammate Sarah who finished second in both of them. The race didn't really begin until we got closer to the Mogollon final climb to the finish where our team assembled at the front (a bit too early) to help set a fast pace to set up Anet and Caro. Unfortunately, we fell apart before the last false flat before the climb and Anet and Caro had to improvise and ride their own race to the top. Unfortunately Caro got caught up in a small crash before the crucial false flat area and had to fight all the way to the finish to make up ground. After doing our early leadout, I fell off the front and just held on to whatever pace I could manage for the rest of the way. Honestly, this was the worst I felt all week, probably due to the elevation and stomach issues.
The second stage (another long road race of 73 miles) went much better with my climbing and sprint legs coming around. After a couple unsuccessful attempts at a break, I followed Emily Ehrlich who went solo and was also joined by Meghan Easler from Roxo. We stayed away for a little while and I managed to get full sprint points while off the front. Not long after, we almost missed a turn and quickly lost momentum before getting caught by the peloton. Soon after that, we started climbing and it was all about who could hang on the longest. I somehow had good climbing legs and hung onto the front group up each climb. Then we entered the valley section and my team gave me a perfect leadout for the 2nd intermediate sprint of the day, resulting in me getting full sprint points. After that, the race settled in a bit until the final few kilometers when the pace picked up and teams started their readouts for the final sprint. I'll admit, I was a bit too far back when we came around the last corner, but I managed to move up and start my sprint at a decent point and finish 3rd. I was also stoked to take the lead in the sprint points competition! Much respect to Marlies Medias from Team TWENTY24 who passed Maeghan and I a few meters before the line and took the win.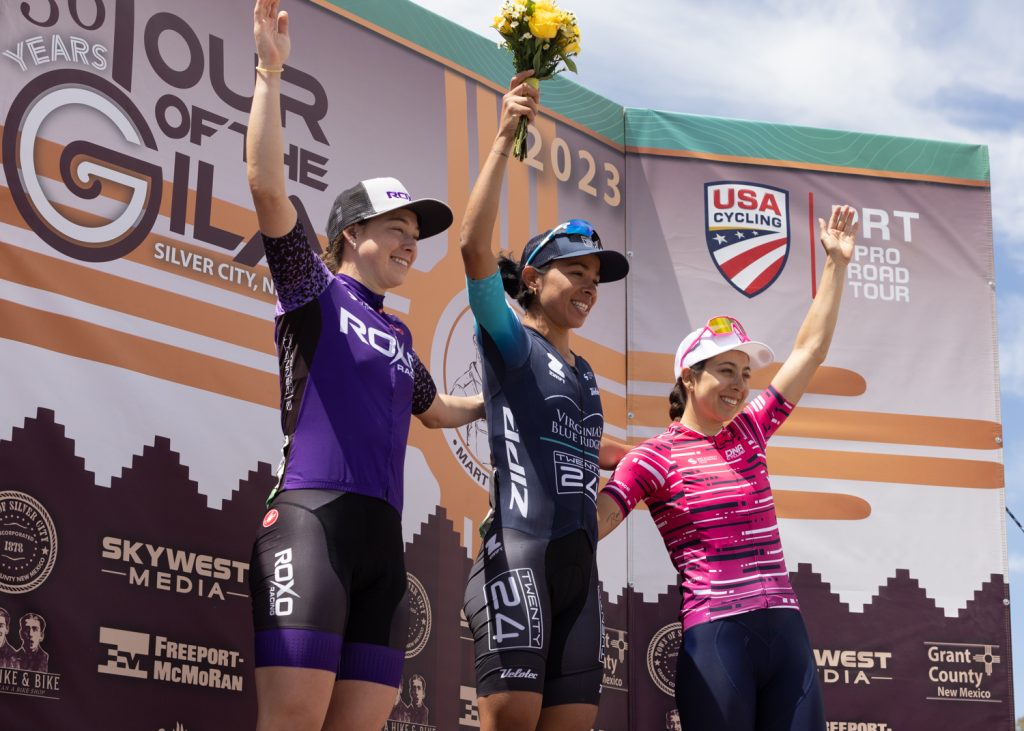 The 3rd stage was the time trial. This TT has always been the hardest TT I've ever done due to the length and climbing. It consisted of a straight-forward out and back 16 mile, very windy course that I ended up spending quite a bit of time out of the arrow bars on. Overall, I didn't feel great at all and just tried to keep as steady of a pace as possible. On the bright side, I passed a couple girls on the final long descent, which was a much needed morale booster.
The 4th stage was the crit: a fun four-corner course with a short punchy hill on the backside and fast descent on the second to last straight. My legs didn't feel great throughout the race but I gave it my best shot to get as many sprint point as possible by going for both intermediate sprints and the finish. I had a great leadout from my teammate Holly for the sprints, but Rylee McMullen from InstaFund came around my inside both times and got more points. Unfortunately, I got a flat on the last lap and lost some ground coming into the finish. Though I finished in the top 10, it wasn't enough to retain the green jersey, which ended up going to Rylee. My teammate Holly, however, had a great finish and crossed the line in 2nd!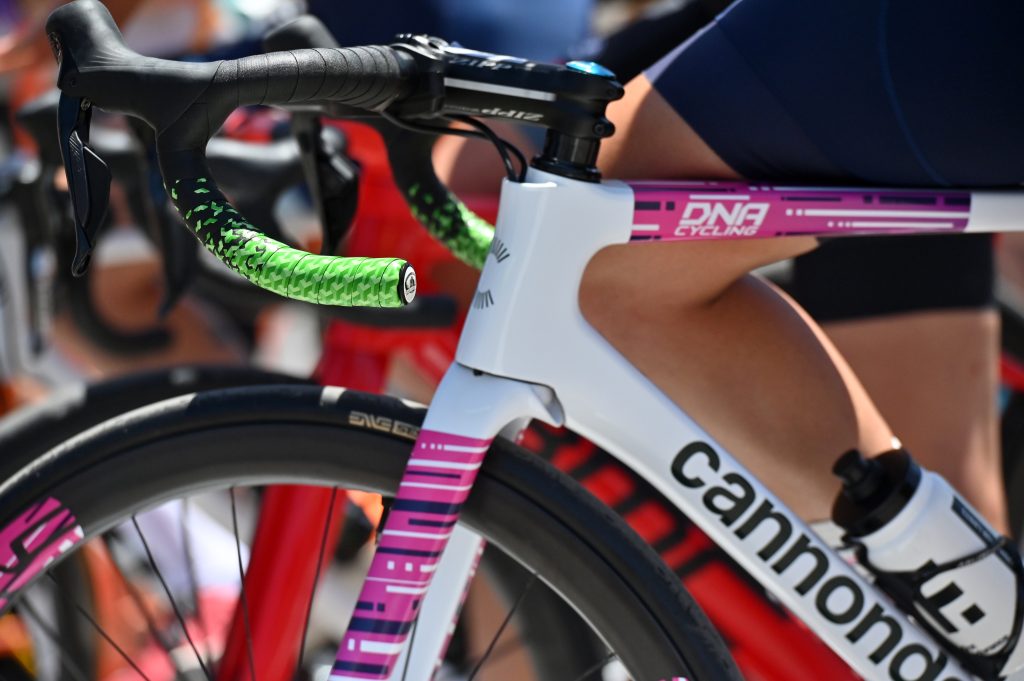 The 5th and final stage was the Gila Monster road race which consisted of 65 miles and 5,500 ft of climbing. It was a tight battle between InstaFund and DNA but we managed to put together a great leadout for both intermediate sprints and I got full points while my teammates swept the other points! That was probably the biggest head-to-head tactical battle I've ever experienced in a race, so to be able to pull off the points win was extra special. After that, a break went up the road that included my teammate Holly, so the rest of my team and I let other teams such as Pato Bike do the work to bring them back. By the time we hit the final big climbing section, the race split apart and I just did my best to keep a steady pace and hang with the small group I found myself in. We ended up catching some of the girls from the break, including Holly, but a few managed to stay away. Anet and Caro managed to attack hard with some others once we started climbing, but my small group ended up catching them towards the end. With a few kilometers left, I went to the front to help drive the pace to lessen the gap to the leaders, so that Anet and Caro could have a chance at a good finish. Unfortunately we couldn't catch the few girls up the road, even though we had them nearly in sight at the end. I dropped off the front on the last little kicker, fully depleted but job done, and stocked to finish the race by taking back the green jersey. Overall, I can't thank my DNA teammates enough for their grit and selflessness in helping me take back the jersey. I couldn't have done it without them! Also, ended up 12th in GC which was nothing to complain about.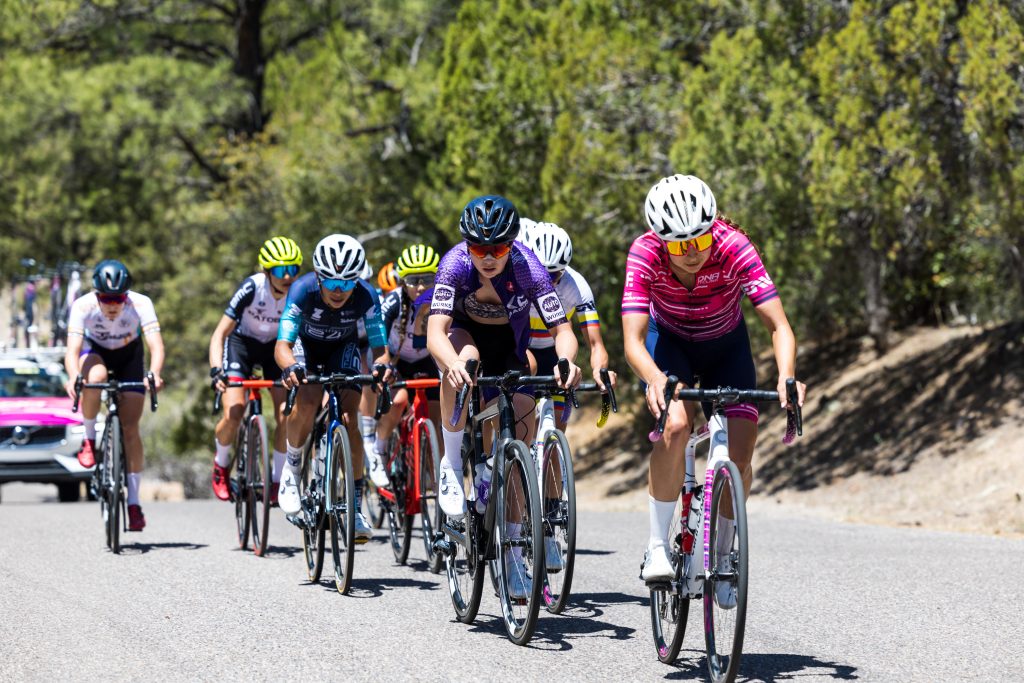 Sunny King Crit
Anniston, Alabama
(5/8/23)
This was my first time racing the Sunny King Crit and it certainly was fun! The race consisted of many laps on a simple four-corner course that featured a slight descent on the backside and false flat ascent on the finish straight. I was surprised with how well my legs felt coming off of Gila and our team raced really well throughout, covering moves and helping Kim get the sprint points. I managed to give Kim a perfect leadout for one of the intermediate sprints with her and I going 1-2. Then towards the end of the race, we started out final leadout well, but then there was some jostling of positions and I ended up with Legion on my wheel in the final lap. On the backside of the course, I realized this and then swung off, allowing Sarah, who was right behind the Legion train, use them for the finish. Sarah ended up getting third and Kim got the green jersey, so despite not having the perfect ending, we were still quite successful! Also, one of the highlights of the trip was witnessing my teammates Harriet and Rachel rescue a kitten at our hotel. It took all of the self-control within me to not take the kitten home with me.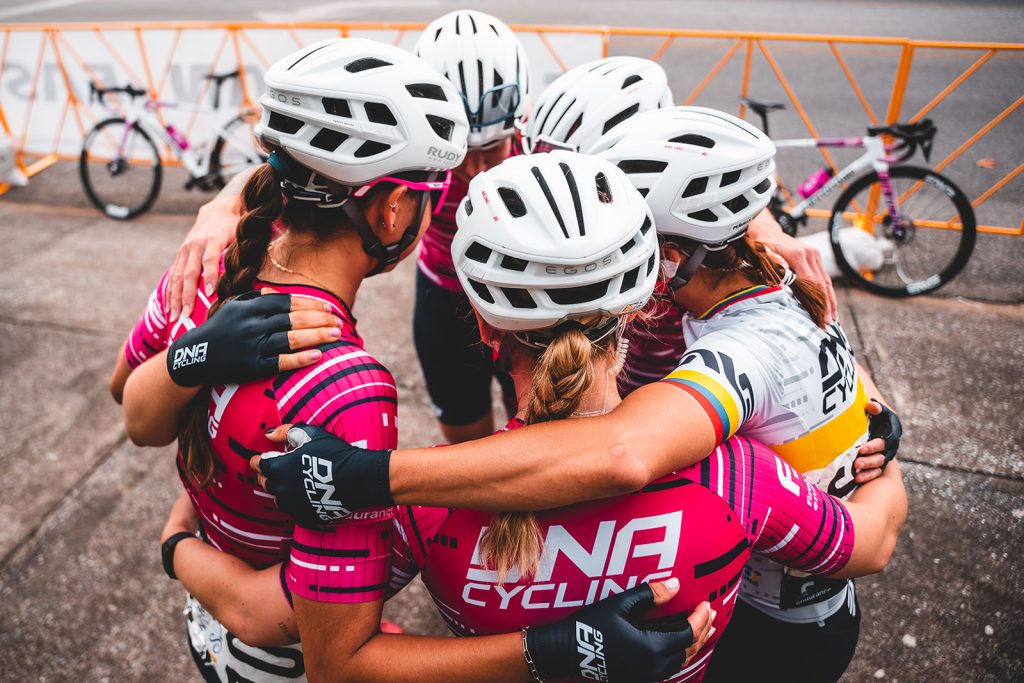 Joe Martin Stage Race
Fayetteville, Arkansas
(5/18/23-5/21/23)
I had done the Joe Martin Stage Race once before, but this year was by far the biggest field size the race had ever seen (120+ riders)! The field was also especially stacked with the country's top teams and riders, as well as quite a few strong international riders showing up.
Stage 1 featured a 67 mile loop with over 4,000 ft of elevation that included the famous Devil's Den climb. It was quite a hot day and although there were some attacks, nothing stuck until we got to the Devil's Den climb and the peloton exploded. I then made sure to maintain my positioning in the front group all the way up but when a few girls attacked as we neared the top, I couldn't hang and found myself in a small chase group. We caught them not too long after and were also joined by much of the peloton that was dropped not long after that. There were plenty of breakaway attempts before the finish but it all came down to a final sprint finish where our team managed to put together a solid leadout with me being the final leadout for Sarah who ended up taking 2nd! I rolled through in 6th which I was pleased with after doing my part of the leadout with about 200 meters to go. That also put Sarah in the Best Young Rider jersey, so overall it was a solid start to the race.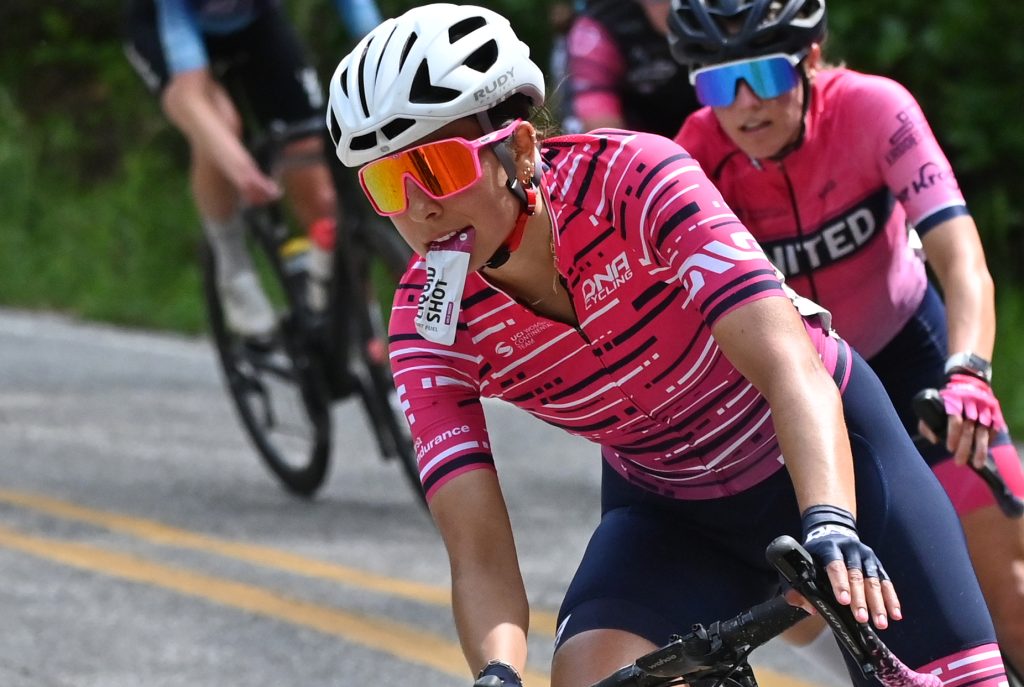 Stage 2 featured another road race that consisted of a 66 mile loop and a hilltop finish, with most of the loop being the reverse of stage 1. Similar to the day before, the field didn't really spread out until we got to Devil's Den, where I attacked before going down the twisty descent which helped string out the field. I think I attacked a bit too hard and early though since I was dropped from the front group when we started the climb back out of Devil's Den. It was all I could do then at that point to just work with a small group I found myself in which included Sarah and Anet. Eventually we made it back on to the front group and I made sure to save as much energy as possible for the lead in to the final climb. Our team assembled as we approached the climb and when we started going up, I gave it all I had to get near top with Sarah on my wheel. We had caught remnants of the late breakaway that had gotten away on the climb from Devil's Den so by the time we reached the last turn to the finish, there were only a few ahead of us. Sarah sprinted around me coming out of the last turn and ended up 4th, then I rolled through in 6th.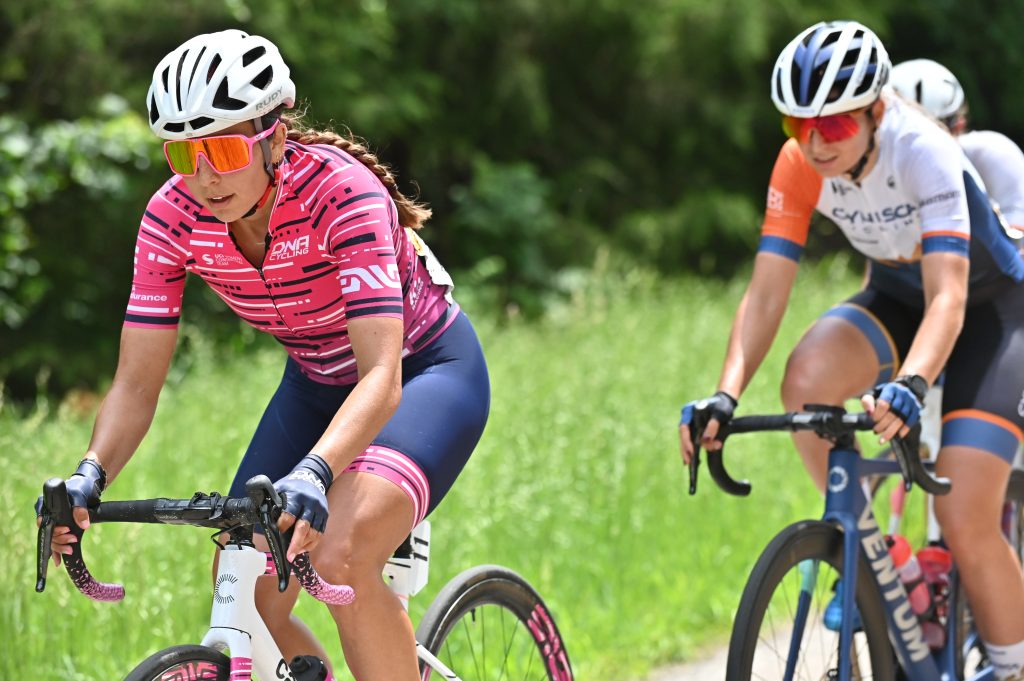 The 3rd stage featured a 3 mile time trial up Devil's Den. The twisty and pitchy terrain with a slight descent at the top and false flat to the finish made for a very challenging race. Overall I didn't feel too great and had a pretty sub-par performance despite holding decent power throughout. This partially could have been because I went out a bit too hot. Lesson learned for next time.
Stage 4, the final day of racing was the downtown crit, featuring a technical 8-corner course with a fast descent on the backside and a short punchy climb to the finish. Our team raced well throughout, but unfortunately we fell apart in the last couple of laps and were a bit too far back for a perfect lead out for Sarah. On the last lap I managed to move up slightly, and then in between the 7th and final turns, I let Sarah go around me who ended up getting an impressive 3rd place.
Overall, I was feeling quite up and down throughout the week, but I'm pleased I was able to come away with 7th on the final day (12th GC) and that Sarah was able to secure the best young rider jersey.
Armed Forces Cycling Classic
Arlington, Virginia
(6/3/23-6/4/23)
I had just come off of a 10 day track camp in between Joe Martin and this race, so I was a bit tired to say the least. Though the great thing about track camps is that they are great for priming the punchiness in the legs needed for races. Day one of racing featured a mostly-flat, 4-corner course with a slight false flat descent into the finish. They had changed the course from last year due to (what I believe to be) the construction going on and I'll admit, I liked this course a bit better. The race was pretty challenging with TWENTY24 attacking like crazy throughout. Our team made sure to stay at or near the front for most of the race, and also made sure to follow important moves. We tried two successful mock lead outs for Sarah on the mid-race prime laps, both of which were followed by strong attacks from the peloton which we covered. By the end of the race, we couldn't get quite organized enough for a proper lead out since some of the girls were too gassed from the moves made throughout the race. I was also on the front next to TWENTY24's train a bit too early and was gassed by the last couple of turns where I just let the three teammates behind me go around. In the end, Sarah still managed to sprint for 3rd!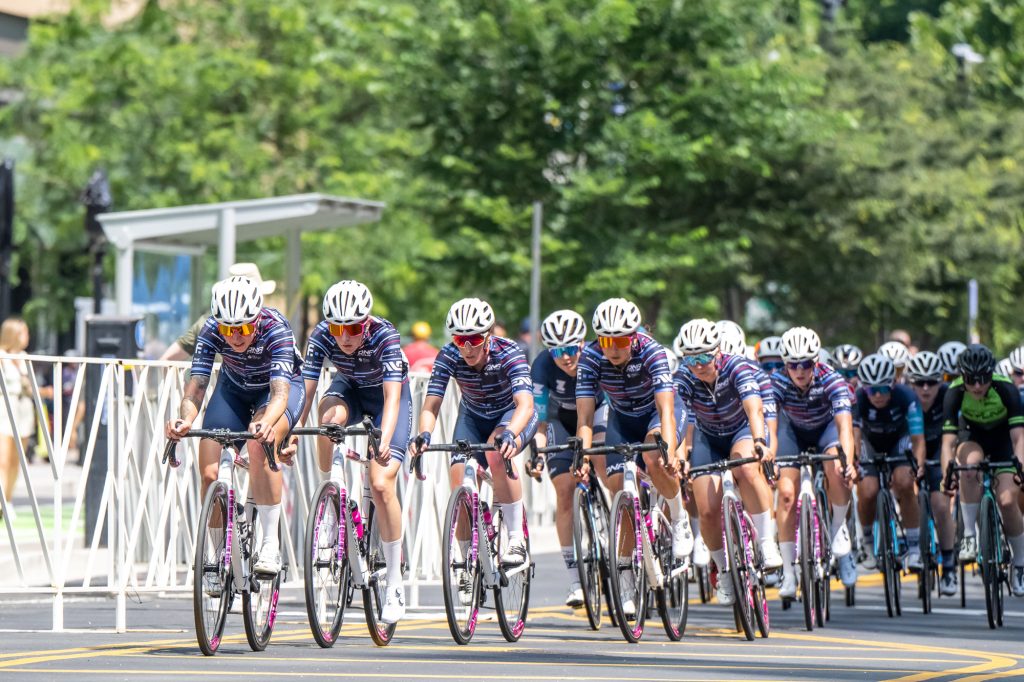 Day 2 was probably the most challenging crit I've done to date! The course was the same as last year and consisted of a technical five-corner lap with two of the five corners being very sharp turns. Emily Ehrlich from TWENTY24 went solo off the front for about 20 laps and our whole team did our best team time trial to bring her back with TWENTY24 adamantly trying to block our attempts throughout. I'm bummed I wasn't able to go with her initially when she went, but I had just covered an attack from Jen and just didn't have the energy to go when she countered. When we finally caught her, Jen attacked with a few others that included Emily and my teammate Sarah. They ended up staying away and Sarah sprinted for 3rd again. I ended up taking 2nd in the field sprint and 8th overall. In the end, I'm happy with how deep I went and how strong I felt–what a tough day and solid battle!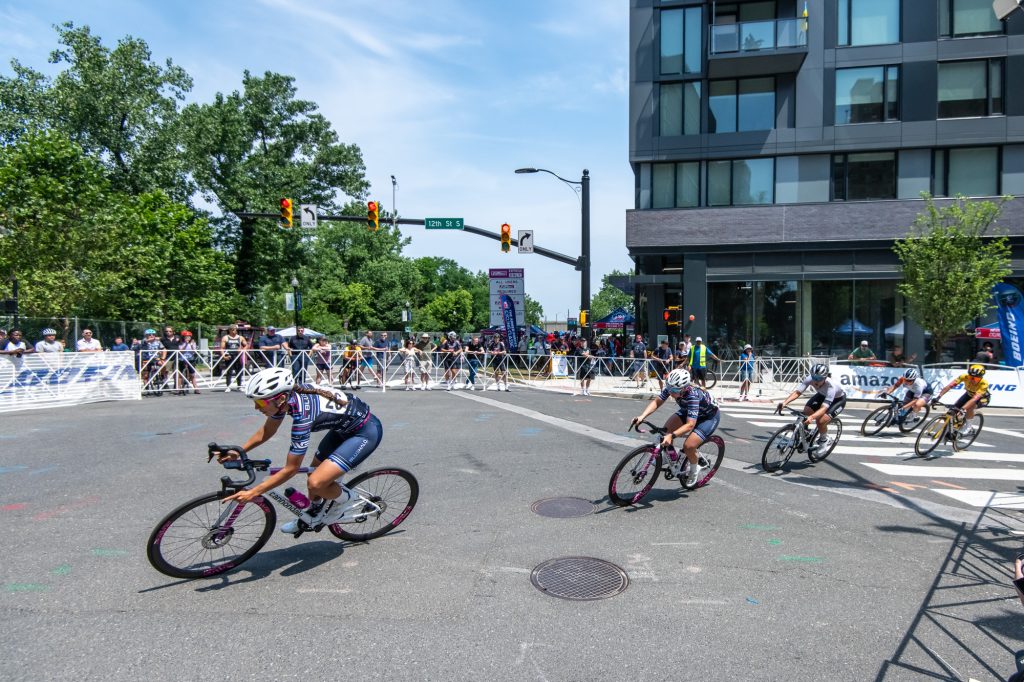 National Championships
Knoxville, Tennessee
(6/22/23-6/25/23)
I was especially looking forward to Nationals this year (the road race in particular), since I knew based off of last year, I was capable of pulling off a great result. I always enjoy doing the time trial and crit before Sunday's road race since I see it as a great way to open up the legs for the main event.
The time trial course was the same as it's been the last few years which consisted on two 7 mile laps with a couple punchy climbs on the backend of each lap. I had great legs and even set some new power records, however, my front rim brake was rubbing on one side throughout the majority of the race and sadly I couldn't brake properly through the turns. This also resulted in a couple of near crashes where I slid from improperly braking through a couple of the U turns on the first lap. This combined with the fact that we were racing in rainy conditions on wet roads made for a very sketchy race. Overall I was disappointed with my result but at the same time pleased with how I felt and how hard I pushed myself.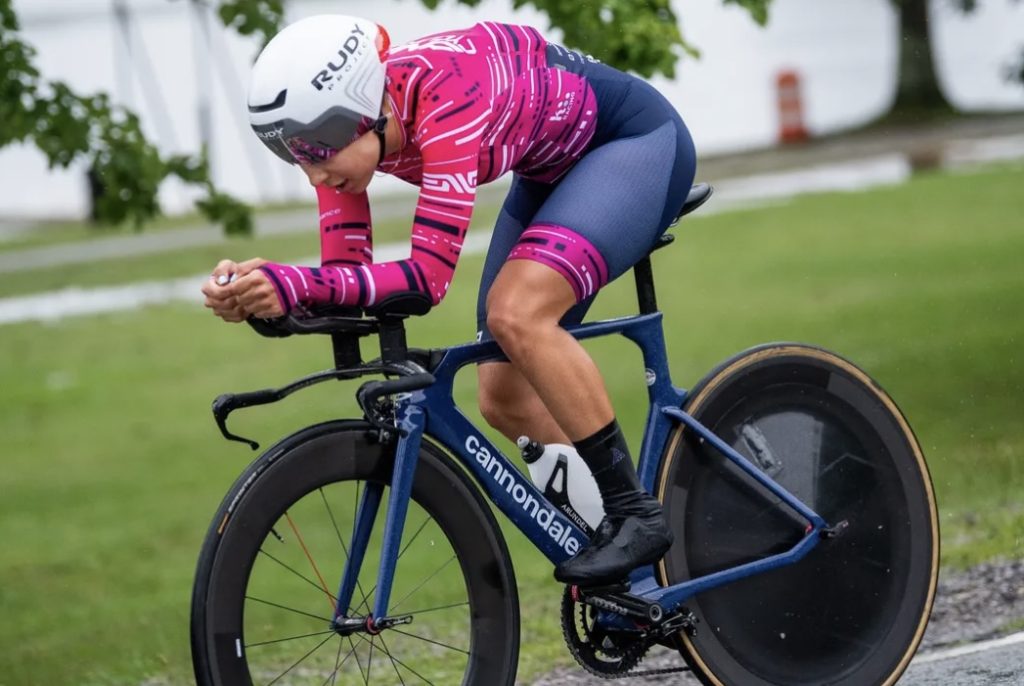 The following day was the crit which featured 6-corners with the last three corners being back-to-back on narrower roads and on a small punchy hill before the final slight downhill to the finish. The rest of the course was pretty wide open and was very fast with half of it being downhill. Our team raced quite aggressively–always at or near the front both covering moves and making moves. I found myself at the front quite a bit patrolling the race and covering attacks by other teams. Unfortunately, when it came down to the last couple laps, our team couldn't get organized enough to give Olivia (our sprinter) a proper lead out. I did what I could to help bring Olivia up towards the front on the last lap, but at that point, we were just too far back. Thankfully, my teammates Daphne and Heather managed to take over and bring Olivia up a bit further, but unfortunately it wasn't enough. I think most of us were quite gassed by the end of the race due to how aggressive we were throughout, so if anything, it was a huge learning experience.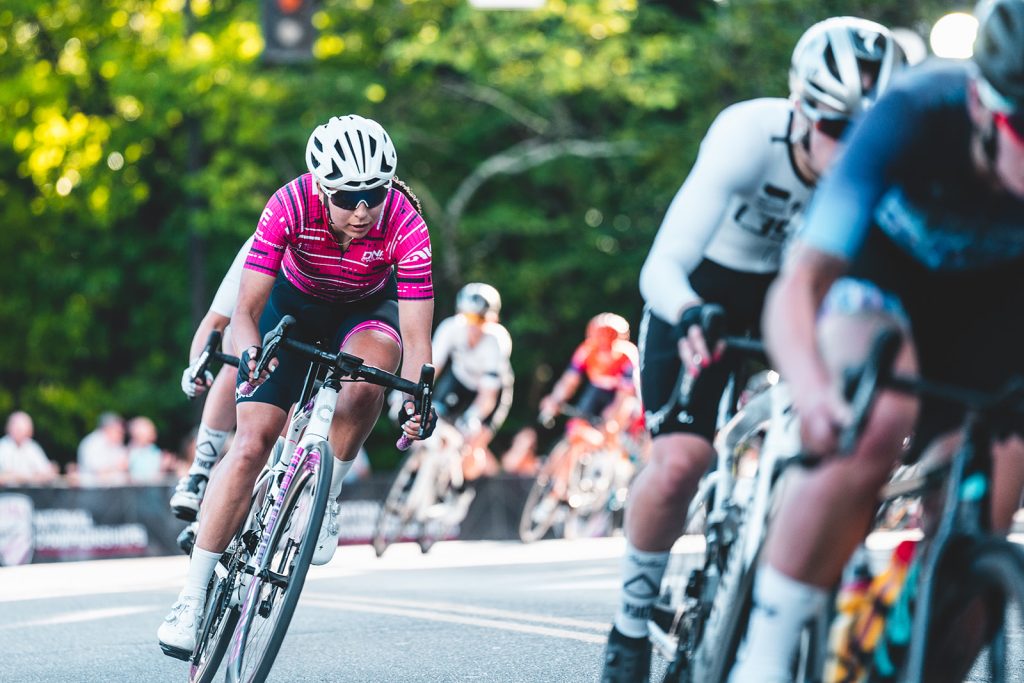 A couple days later was the road race. The 67 mile race feature 10 laps with the start and finish in downtown, and the famous punchy Sherrod Hill being the main feature. Our team rode super well to support Heidi and I for the latter half of the race. Holly managed to get in an early break which stayed away for most of the race–so proud! I managed to stay with the front group up until the Sherrod climb on the 9th lap where I fell off and had to chase back on with a few others. Thankfully, we made it back, and it was at that point that I decided I was going to support Heidi as much as possible. Not long after re-joining the group, I managed to cover a move by a Cynisca rider, which in hindsight, wasn't the best move for energy saving purposes. Sadly, I was dropped again the final time up Sherrod and just couldn't make it back to the front group before the finish. On the bright side, I managed to out-sprint the others of the smaller chase group I was in and finish top 15. However, I'm pretty disappointed with my result and how I felt throughout the race, especially after getting 4th in this race last year. I just didn't feel like I had the same pop and endurance in my legs as I normally do. Oh well, that's just how racing goes sometimes. Hopefully my racing legs come around for the second half of the season, which is right around the corner!